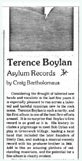 Terence Boylan
Asylum Records
by Craig Bartholomaus
Considering the drought of talented new bands and vocalists in the last few years it is especially pleasant to run across a talented and tasteful musician new to the rock scene. Terence Boylan is such a rarity, and his first album is one of the best first efforts around. It is no surprise that Boylan's first record is as good as it is. His history includes a pilgrimage to meet Bob Dylan and play in Greenwich Village; leading a local band that included the later founders of Steely Dan, and making a musical comedy record with his producer-brother in 1968. Add to this an Amazing plethora of outstanding musicians, and the potential for a fine Album is clearly evident.
The album is consistently enjoyable and tasteful. The music and mood fits into the Jackson Browne genre, and interestingly enough, Boylan looks a lot like Browne, which may help at first in creating an image. Boylan's voice and the lyrics are also similar to Browne's, yet one listening makes it clear that Boylan is original and genuinely talented - not a mere imitator.
Although it is Boylan's voice and the lyrics that dominate the album, the quality of musicians propels the instrumentation into the superior range, far outdistancing most of the music heard on similar mood albums. Names like Donald Fagen, Don Henley, John Klemmer, Jai Winding, Jim Gordon, Leland Sklar, Dean Parks, and many more document the respect for Boylan in the music community.
The strongest aspects of the album are the songs themselves. Boylan, who has a creative writing degree, is a powerful and fresh lyricist.