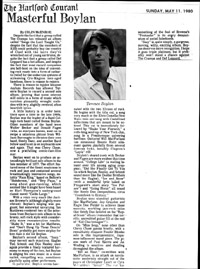 The Hartford Courant
MASTERFUL BOYLAN
By Colin McEnroe
Despite the fact that a group called The Cramps has released an album called "Songs the Lord Taught Us," despite the fact that the members of KISS could probably buy the country of Chad with the lucre they've wrenched out of young eardrums, despite the fact that a group called Def Leppard has a hot album, and despite the fact that most record companies are hell-bent on the idea of converting rock music into a form of cathartic relief for the endocrine systems of screaming Cro-Magnon teen-aged banshees, there is reason to rejoice.
There is reason to rejoice because Asylum Records has allowed Terence Boylan to record a second solo album, proving that some interest still exists in a form of music which matches pleasantly wrought melodies with wry, slightly cerebral, often heartfelt lyrics.
A little history is in order here: Once upon a time in the late 1960s, Boylan was the leader of a Bard College rock band called Boona Boylan. Other members of the band were Walter Becker and Donald Fagen (who, as everyone knows, went on to swipe a salacious phrase from William Burroughs to christen their own band, Steely Dan), and another Bard fellow used to sit on the keyboards now and again. That was Chevy Chase, now a pratfalling comic-cum-film star.
Boylan went on to produce an astonishingly brilliant solo album in the late summer of 1977. The effort featured some of the finest musicians in rock and jazz and contained several breathtakingly innovative songs, notably "Rain King," based on Bellow's "Henderson," and "Hey Papa," a song about gun running, which seemed like it might have been based on Earl Thompson's underground classic novel "Caldo Largo."
With a voice very much like Jackson Browne's (although slightly more vibrant) Boylan's singing was poignant, but somewhat unvarying. Ian Matthers rendered two of the selections from Boylan's solo album in his breezy, soft-rock style with considerably more remunerative results. "Shake It," was a hit for Matthews, and "Don't Hang Up Those Dancin' Shoes" probably got more airplay for him than it did for Boylan.
Boylan's second album, "Suzy," may correct such injustices. Eagles Tim Schmit and Don Henley once again provide a finely textured harmony on many of the cuts, but Boylan is singing his own music in a more varied, compelling way, sometimes playfully aping other performers.
In particular, Boylan seems fascinated with the two Elvises of rock. He begins with the title cut, a song very much in the Elvis Costello- New Wave vein and sung with Costellized inflections that are meant to be noticed. This cut is immediately followed by "Shake Your Fiorucci," a rollicking send-up of New York chic, sung in a Presleyesque quivering baritone. Guitarist Will MacFarlane (an occasional Bonnie Raitt sideman) quotes playfully from several famous licks, notably Clapton's "Layla" riff.
Boylan's shared roots with Becker and Fagen are more evident this time around. " College Life" (a wailing lament over life among aging preppies), "Did She Finally Get To You (in which Boylan, Henley, and Schmit sound more like Doobie Brothers than the Eagles), "Ice and Snow" (with a wonderful lyric based on Fitzgerald's short story "Ice Palace") and "Going Home" all sound like Steely Dan compositions, circa "Countdown to Ecstasy."
Boylan uses standout guitarists like MacFarlane, Jay Graydon and Eagle Don Felder to achieve those squeaky, warbling jazz-rock solos that Steely Dan favored on the "Royal Scam" album (remember that the terrific uncredited guitar fill at the end of "Kid Charlemagne?").
On "Miso Soup," none other than Chevy Chase guests briefly, with a remarkably eloquent Fender Rhodes solo in this impressionistic, Japanese-influenced mood piece. The piano work of Paul Harris and Jai Winding is sensitive and dazzling throughout the album.
"$50 an Hour," co-written with MacFarlane, is an attack on narcissistic modernity straight out of the pages of Christopher Lasch or Cyra McFadden's "Serial." The cut has something of the feel of Browne's "Pretender" in its angry denunciation of social falsehoods.
"Suzy" is, quite simply, a gorgeous, moving, witty, exciting album. Boylan deserves more recognition. I hope it goes triple platinum, but it probably won't stand a chance against The Cramps and Def Leppard.